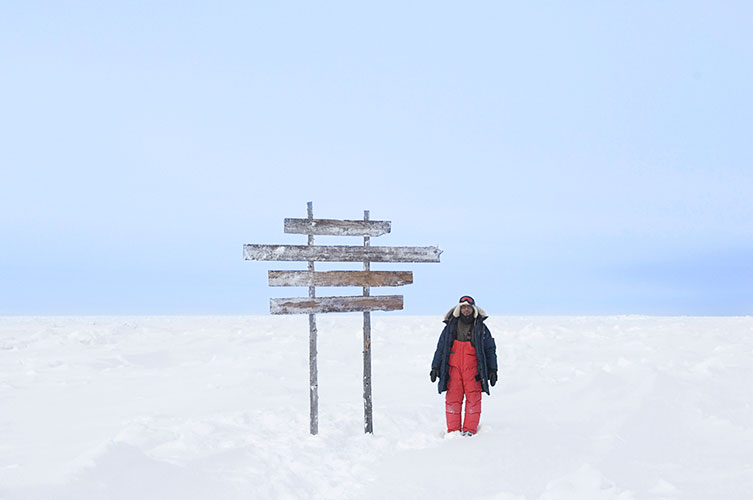 Statement
In 1967, the pianist Glenn Gould traveled a thousand miles by train to the sub Arctic city of Churchill, Manitoba as a precursor to his radio documentary The Idea of North. Gould's work was a meditation on solitude, isolation, and the relationship between the Canadian imagination
and vast tracts of remote, northern land. But more pointedly, the work examines the extent to which a consciousness, national or personal, defines itself through the opposing force of a frontier.
This project connects my own wanderings to the austere landscapes of Churchill, Canada and to Badwater Basin in Death Valley, California through the mechanism of a found photograph of the glacial topography of Mount Kilimanjaro in Tanzania, Africa. The work takes multiple forms:a video installation, photographs, and a wall painting. The objects consider the spaces between,around and behind form, site, and language; spaces resonant with myriad memories and affiliations. Through gestures that mirror and conflate, these works establish a space for the interplay of conceptually and physically distant geographical locations.
Bio
Dawit L. Petros was born in Asmara, Eritrea, and received his MFA in 2007 from the School of the Museum of Fine Arts, Boston. He has exhibited his work in group shows throughout Canada and in the United States, including Wedge Gallery, Toronto; Jack Shainman Gallery, New York; Photographic Resource Center, Boston; Massachusetts College of Art, Boston; Harbourfront Gallery, Toronto; Observatoire 4, Montreal; Maison de la Culture Frontenac, Montréal; and Prefix Gallery, Toronto. He has received Fulbright and Bombardier Internationalist fellowships, as well as an Art Matters Foundation grant.
Website
dawitlpetros.com